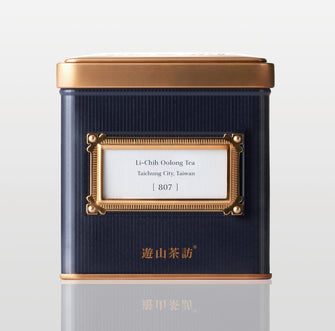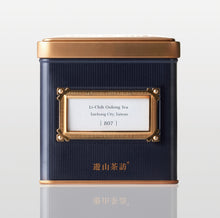 807 Li-Chih Tea
REGION
Taichung County, Taiwan

AROMA
The rare, the elegant, the soft toned

ELEVATION
Over 2500m

ROAST
Lightly Roasted
ALL ABOUT THIS TEA
This tea is grown in the Li Shan tea region located in Central Taiwan at altitudes of 2500 meters or higher. Due the steepness of the terrain, the tea grown here sees fewer hours of sunshine, allowing the leaves to grow saturated with pectin. These tea leaves further carry a pure floral and green apple aroma, and the brew has a smooth silky texture which complements its bright refreshing taste.
Only a small quantity of these leaves can be produced per year, making it that much more precious.
Name:807 Li-Chih Tea
Producing Region/ Taichung City, Taiwan
Tea Variety/ Oolong
Fermentation Level/ 
Baking Degree / Lightly Roasted
Tea Color/ Deep amber-colored
Aroma / The rare, the elegant, the soft toned
Flavor Description/ Only through a careful cultivar selection process and great attention to detail at each step of the manufacturing process then careful storing of the tea for at least 6 years does the aged oolong tea begin to naturally exude a gentle smooth taste. The combination of its solid mellow and elegant flavor along with a ripe fruity aroma is unique to this kind of top-end aged tea.
Product Type / Classic Series
------------------------------------------------------------
[Product Contents] 807 Li-Chih Tea
[Tea weight options] 100g, 10g
[Food Industry Registration Number] M-116363668-00001-0
[Certified by SGS national pesticide residue standards]
/ Origin and manufactured in Taiwan /
---
Certification
Yoshan Tea is certified to FSSC22000, ISO22000, HACCP, HALAL standards. All tea products provided by the company are tested and certified by the international inspection agency SGS. Consumers can brew and drink the tea with confidence that it has passed these agencies' health requirements.


The Brewing and Storage of Tea 
Type of tea
Amount of tea
Water temp.
1st round
2nd round
3rd round
4th round & above
Oolong tea
Tea flattened at the bottom
of the teapot
95°C or above
50 sec
40 sec
40 sec
Add 5 secs to each round after the third round.
The tea may be re-brewed more than 6 times.
Oriental beauty tea
2/5 full
85°C or above
50 sec
40 sec
40 sec
Black tea
2/5 full
90°C or above
30 sec
30 sec
30 sec

---

Keep away from moisture and sunlight.
Keep away from odors and heat.
After opening the vacuum-sealed package, please discard the oxygen absorber found in the vacuum-sealed package.
Be sure to squeeze excess air out of the tea package, fold the opening, and seal tightly with the enclosed clip.